Here is an example of my ghost writing, a little book called "Write as you wish: Brilliant journal writing ideas and guidelines for beginners", which can be found on Amazon here.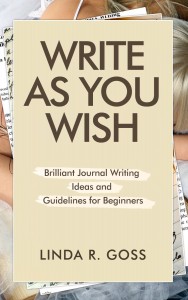 Here is the blurb:
This is the book you have been waiting for, although maybe you didn't realise it.
Keeping a journal could be the secret to your future well-being and success. It can have a positive effect on every area of your life, your mental health, and your relationships, and even help you get organised for a possible future business.
When you learned how to write, when you were at school, there were always rules to follow and marks on your paper afterwards. Maybe it was confusing, frustrating, rather disappointing. After that experience, you possibly lack the confidence in your personal abilities to keep a journal properly. If writing at school was a happy experience for you, then maybe you are already well into keeping your own journal. Even so, there are ideas here that you will enjoy.
Dive into this book and regain your confidence in writing. Write as you wish, because how you choose to write your own journal is your choice. No one can tell you that you are doing it 'wrong'. This book will help you to discover your own way of writing and make your journal a reflection of your own character.
On the other hand, it's also possible that you already have a few good ideas about what you might put into your journal, but this book is full of brilliant ideas (more than a hundred) that you probably would never have thought of.
As well as that, there are ways of using a journal that you haven't thought of yet. There are more types of journals than most people have ever dreamed about, and more than likely several of them will be something you want to have a go at.
Do you think that keeping a journal means writing in a notebook? There are so many other possibilities! Are you thinking about keeping a digital journal or a blog instead? This book has ideas to help you with that too.
Whatever stage you are at in your journal writing journey, you will benefit from reading this book. It is written firstly for beginners, but even those who have started to develop a good journal keeping habit can benefit from reading it and gaining some fresh ideas.
Just don't wait any longer. Read through the book and decide for sure that you want and need to keep a journal. Then read through again and note the parts you are going to try first. Now start your journal, and write as you wish.
Here are some customer reviews (from verified purchasers):
4.0 out of 5 stars Great for beginners! (January 20, 2016)
This is a great book for beginning journal writers, which is not just something done by "little girls". The term diary is used in the book often. Do not let that stop you. There is very valuable information inside. Happy Journaling!!!!
5.0 out of 5 stars Creative Ideas (June 12, 2015)
Easy read with great ideas. A very short journal writing book that lists tons of ideas on the types of journals.
5.0 out of 5 stars
You can learn to be a good writer
 (

February 12, 2015)
This is a really creative book on how to write beautifully and inspirational the concept of journalism. I love how the author really makes it easy to read, and offers guidance and tips on what to write about, and the topics provided. She even goes classical approach, and implies to write on a type writer which i didn't know they still make. I love the idea of writing on a typewriter, It really force you to engage in your craft. This a book for those who inspire to change lives.. and write with passion.
5.0 out of 5 stars V
ery informative
 (

January 31, 2015)
I liked the ideas for journal writing. I feel motivated to start it again. Definitely gonna try a variety of the entries they described.